The T&S uniboot fiber series offers a wide range of products to meet the diverse needs of data centers. LC, CS™, MDC and SN connector options meet the specific needs of a variety of applications. We're here introducing the LC uniboot patch cords to help you explore the wide selection of T&S patch cords that improve the reliability, flexibility and performance of your data center connections.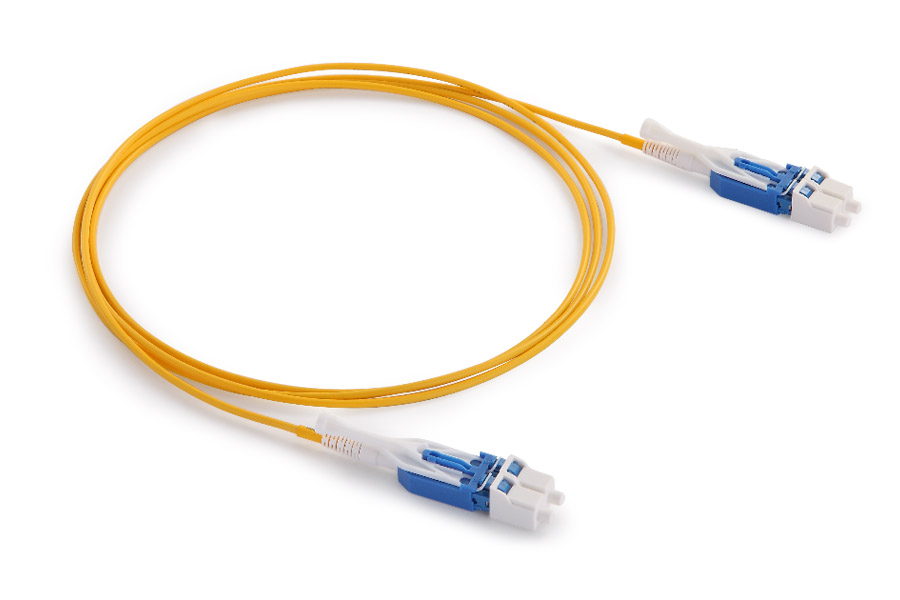 Uniboot patchcord is one of the fiber optic cable connector types that combines the features of traditional duplex fiber patchcord into one cable. Two individual fibers can be combined into a single sheath to enable bidirectional transmission. This design offers several unique features and benefits.
High density:
Uniboot fiber optic cables offer at least 50% higher density than traditional twin fiber cables. Combining two optical fibers into a single cable reduces the cables needed to connect them, improving space utilization and easier cable management in data centers.
Bend sensitivity:
Uniboot patchcords use bend resistant fibers designed to be less sensitive to bending and twisting. SM fiber optic cable provides a minimum bend radius of 10mm.
Polarity Reversibility:
Uniboot fiber optic cables simplify the installation and maintenance of fiber optic connections. Uniboot patch cords make it easy to switch polarity and require four simple steps to flip the connector, which saves time and effort and makes polarity switch easy.
General Types of LC Uniboot
There are several patch cord types of LC uniboot fiber optic cables: standard, flat Clip, Push/pull type and polarity-switchable type
LC Standard Clip Uniboot Patchcord:
The standard LC connector is a common option for the uniboot LC connector. The standard Uniboot patch cord design allows one cable to carry two fibers, reducing cable congestion during routing. Uniboot LC connector fiber optic patch cords are basically manufactured with 2.0mm cables available in PVC (OFNR) or LSZH (Low Smoke Zero Halogen) material.
Flat Clip Uniboot LC Patchcord:
This type is specially designed with a flat clip feature that creates extra space between connectors. This unique design provides improved heat dissipation and reduces the risk of overheating, ensuring optimal performance and reliability. In addition, the reverse-polarity design of this connector allows the polarity to be reversed easily, without tools and without the need to strip the fiber.
Push-Pull Type Patchcord:
Push-Pull LC uniboot patch cables enable quick, tool-free connections in high-density areas. The convenient and robust push-pull latch allows the uniboot connector to be easily inserted and removed from high-density cables without the need for special tools.
Interchangeable Uniboot Patchcord:
The Uniboot Interchangeable Fiber Optic Cable has a unique design that allows for polarity reversal without the use of tools. Often used in data centers with a large number of cables and limited space. Interchangeable SM patchcord provide convenience and flexibility, making them ideal for environments where polarity reversal may be required. T&S uniboot patch cables are also available in OM3/OM4 multimode and OS2 singlemode cable types. Multimode OM3/OM4 cables are ideal for short-distance transmission, while single-mode OS2 cables are better for long-distance transmission.