The development of the IoT, the explosion of cloud computing, and the rollout of 5G in recent years have increased pressure on data centers to increase network capacity to 400G and have prompted both cloud service providers and data centers to look for new ways to meet their 400G Data Center Interconnects (DCIs). One of the most well-liked cutting edge 400G DCI solutions is 400G QSFP DD. How to use QSFP-DD for 400G DCI applications? Learn more by reading on.
How Come 400G QSFP DD Transceivers Are More Popular in DCI Applications?
Basically, QSFP DD, OSFP, CFP8, and COBO are the four form factors that are used in 400G applications. We will see how QSFP DD performs better. Let's examine the 400G QSFP DD in greater detail first.
QSFP-DD 400G Form Factor: Basic Introduction.
QSFP-DD stands for Quad Small Form Factor Pluggable Double Density (also known as QSFP56-DD). Compared with QSFP28, it has twice as many interfaces. QSFP-DD is compliant with both MSA and IEEE802.3bs standards. It is capable of delivering a 400G signal (8x 50G or 4x 100G) while using the least amount of power possible thanks to high-level PAM4 modulation technology, which enables it for the development of a hardware-efficient method to scale to 400G for data centers.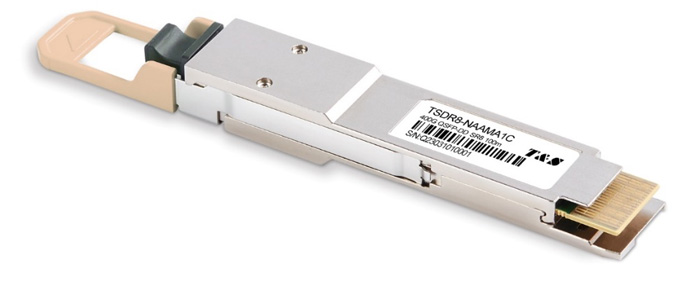 400G QSFP-DD SR8 Transceiver
How Does 400G QSFP DD Perform Better?
When used for data center interconnects, 400G QSFP-DD offers a number of advantages over other 400G form factors:
1. Upgrading to 400G networks is made much simpler by being backwards compatible with QSFP+, QSFP28, and QSFP56.
2. QSFP DD, which is supported by PAM4 modulation, is a more affordable option for 400G DCI with low power consumption.
3. Since 400G QSFP DD has four or eight lanes, it offers greater flexibility and scalability.
Transmission Distance < 7m
The transmission distance between the TOR access switches and the server NICs is usually less than 7m, in such a case, the better choice would be 400G QSFP-DD DACs. The 400g optical transceiver primarily supports high-bandwidth QSFP-to-QSFP-DD copper direct-attach solutions when QSFPDD modules are adopted in the 401G DCI interface. It is suitable for very short-distance links and provides a cost-effective solution for establishing a 400-gigabit QSFP-QSFP ports of switches /routers within the rack and across adjacent racks.
Transmission Distance 7m < L <100m
In the case of transmission between the ToR access switch and Edge Core switch, which is typically under 100m in distance, 400G QSFP-DD AOC (8x 50G pam4 modulation) is more commonly used due to its low weight, long transmission distance and ease of installation and maintenance.
Transmission Distance < 2km
For Edge Core switches, the transmission distance between the switch and the Spine Core switch is usually less than 2 km, so a 400G QSFP-DD FR4 transceiver with low power consumption, high density and high speed would be a good choice.
Transmission distance<100km
Transmission between spine cores and core routers belongs to DCI metro interconnects, and the transmission distance is typically less than100 km. The 400G QSFP DD LR8 transceivers provide high-speed transmission using PAM4 technology for interconnections between spine cores and core routers.
Recommended 400G QSFP DD Transceivers for DCI
400G QSFP DD transceivers are increasingly widely used in data centers. To better meet users' application requirements for different transmission speeds, we offer a full range of 400G QSFP DD optical modules, including 400G DAC and QSFP-DD breakout cables to support different transmission speeds and distances. The 400G QSFP DD series products feature powerful diagnostic capabilities, digital optical monitoring, low insertion loss. They have under gone rigorous equipment testing to achieve outstanding performance, quality, and reliability.