Fiber optic enclosures mainly include wall-mounted distribution boxes, rack-mounted tray distribution boxes or wall-mounted distribution boards. Users can convert cables between different cable types and terminations. At the same time, users can protect vulnerable optical fiber and cable enclosures and effectively manage redundant or reserved cables. It plays an important role in project design and long-term system stability.
Why are enclosures used?


Patch panel and other enclosures play several important roles in optical fiber cabling.
One is to switch between different types of cables. Many different types of cables are used in the fiber cabling process. Distribution cables and breakout cables have multiple strands of optical fibers inside the sheath. Because of their small size, high density, adaptability to long-distance traction and low cost, they are usually used for infrastructure cabling. Duplex patchcord, on the other hand, features two fibers, each with a sheath and glued together in the middle. Duplex patchcord are usually used for short-distance jumper connection. Duplex patchcords tend to be bulky and easily snagged when pulling cables over long distance. Patch panel is important because it provides just the right amount of transition space between distribution cables, breakout cables and duplex/simplex patchcords, so that all cables located between different ODF and equipment cabinets stay in their respective space and keep in order.
Second, enclosures provide effective protection for optical fiber. The cable sheath is strong and durable, which is particularly important during installation and handling. However, part of the outer jacket must be peeled off before it is introduced into the case for terminal connection. The case provides a reliable protection space for the cable.
The third is to provide a safe and protected space for reserved cables. In most cases, whether rack, tray or wall-mounted cases, have a winding fitting to wrap the cable around for later use. These additional cables are often used to repair links or preterminate connectors for a future date.

Rack-mounted optical fiber distribution tray and distribution box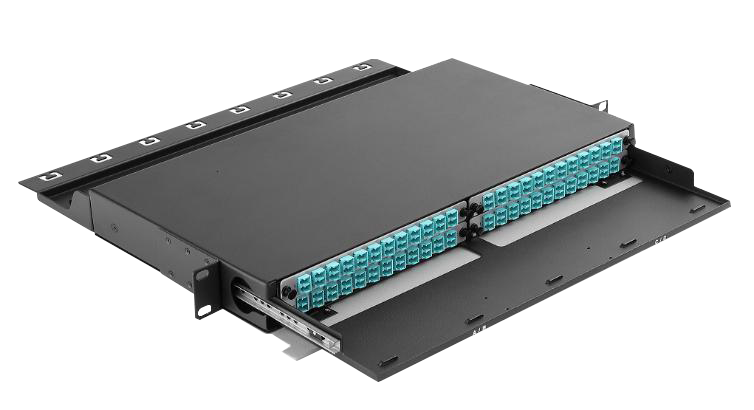 Fiber optic cabling trays can be mounted on standard data racks, and a variety of rack sizes are available with a wide selection of adapter panels. There are two main types of fiber optic cabling trays available: removable and replaceable adapter panel connection units and fixed standard adapter connection units. Removable adapter panels are more commonly seen because it's easy to install and replace.
Wall-mounted distribution box


There are two main types of wall-mounted distribution boxes: indoor metal boxes and indoor/outdoor plastic boxes. Similar to rack-mounted trays, wall-mounted distribution boxes can be fitted with separate connectors or panel fittings as needed. Metal distribution boxes for indoor use are very durable. Most metal structures are not suitable for outdoor use. Plastic indoor/outdoor distribution boxes, on the other hand, are usually UV resistant and come with weatherproof plastic covers for water resistance. Plastic boxes are more common because of their adaptability, flexibility.