Standard LC optical patch cords are made up of a pair of fibers that are terminated by a pair of LC connectors and are each wrapped in a separate cable jacket. They usually support the burden of dense port connections from data center environments using multimode fibers. One fiber for Tx and one fiber for Rx are added for every optical port when standard LC optical patch cord fibers are used.
LC Uniboot Patch Cord Structure
When connecting two optical ports, LC uniboot cables require only one fiber to be positioned rather than two, which reduces the amount of space needed on a patch panel by 50%. These cables are built for duplex transmission within a single 2.4mm or 3.0mm cable with two fibers in one cable jacket. LC uniboot fiber patchcords can thus significantly reduce the amount of space needed for cabling. Their design makes it simple to change the polarity of the fibers using only the connectors, there is no need for a specialized tool. This small adjustment can help to connect or disconnect a single fiber patch cable without affecting nearby links. It can also make it easier for fingers to reach and speed up latch release.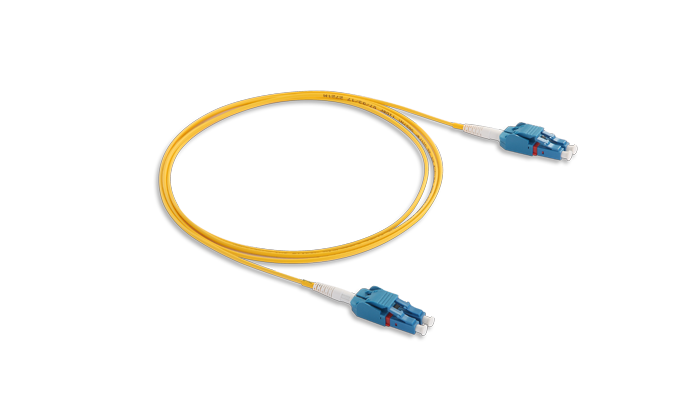 Polarity Reversal
The polarity reversal is much simpler when using LC uniboot patch cables. Normally, changing the polarity only requires a few easy steps and no special equipment. Changing the polarity can be done in practice using either of the following two approaches:
Method I: reverse the A and B positions in the connectors for each fiber;
Method II: Rotate the connector 180 degrees.
In addition to saving space and easy polarity reversal, uniboot LC patch cords offers more possibilities with superior features. Fiber optic network designs can be flexible without having to worry about spacing and polarity issues. Fiber optic cables are much faster with reliable quality, saving a lot of time and money. However,the design and development of LC uniboot patch cords never have never stopped. LC uniboot fiber optic patch cords with push-in plugs facilitate finger access. Connecting and disconnecting a fiber patch cable does not affect the other links around it.