Electrical Pad Layout of 10G SFP+ SR 300m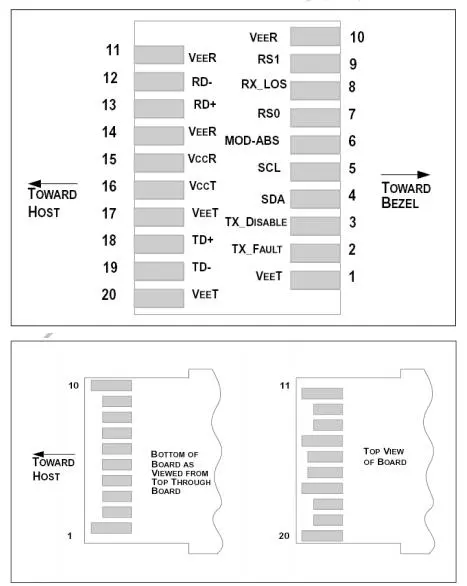 Pin Definition of 10G SFP+ SR 300m
| | | |
| --- | --- | --- |
| Pin | Symbol | Name/Description |
| 1 | VEET1 | Transmitter Ground |
| 2 | Tx_FAULT2 | Transmitter Fault |
| 3 | Tx_DIS3 | Transmitter Disable. Laser output disabled on high or open |
| 4 | SDA2 | 2-wire Serial Interface Data Line |
| 5 | SCL2 | 2-wire Serial Interface Clock Line |
| 6 | MOD_ABS4 | Module Absent. Grounded within the module |
| 7 | RS05 | Rate Select 0 |
| 8 | RX_LOS2 | Loss of Signal indication. Logic 0 indicates normal operation |
| 9 | RS15 | Rate Select 1 |
| 10 | VEER1 | Receiver Ground |
| 11 | VEER1 | Receiver Ground |
| 12 | RD- | Receiver Inverted DATA out. AC Coupled |
| 13 | RD+ | Receiver DATA out. AC Coupled |
| 14 | VEER1 | Receiver Ground |
| 15 | VCCR | Receiver Power Supply |
| 16 | VCCT | Transmitter Power Supply |
| 17 | VEET1 | Transmitter Ground |
| 18 | TD+ | Transmitter DATA in. AC Coupled |
| 19 | TD- | Transmitter Inverted DATA in. AC Coupled |
| 20 | VEET1 | Transmitter Ground |
Notes:
1.Module circuit ground is isolated from module chassis ground within the module.
2.Should be pulled up with 4.7k – 10k ohms on host board to a voltage between 3.15Vand 3.6V.
3.Tx_Disable is an input contact with a 4.7 kΩ to 10 kΩ pullup to VCCT inside the module.
4.Mod_ABS is connected to VeeT or VeeR in the SFP+ module. The host may pull this contact up to VCC_Host with a resistor in the range 4.7 kΩ to10 kΩ.Mod_ABS is asserted "High" when the SFP+ module is physically absent from a host slot.
5.RS0 and RS1 are module inputs and are pulled low to VeeT with > 30 kΩ resistors in the module.
Ordering Information of 10G SFP+ SR 300m
| | |
| --- | --- |
| Part Number | Product Description |
| TSSP-85192L-SRC | 10Gbps SFP+ 850nm 300m 0°C ~ +70°C |
| TSSP-85192L-SRT | 10Gbps SFP+ 850nm 300m -40°C ~ +85°C |
References of 10G SFP+ SR 300m
1. "Specifications for Enhanced Small Form Factor Pluggable Module SFP+", SFF-8431, Rev 4.1, July 6, 2009.
2. "Improved Pluggable Form factor", SFF-8432, Rev 4.2, Apr 18,2007
3. IEEE802.3ae – 2002
4. "Diagnostic Monitoring Interface for Optical Transceivers" SFF-8472, Rev 10.3, Dec 1,2007
Important Notice of 10G SFP+ SR 300m
Performance figures, data and any illustrative material provided in this data sheet are typical and must be
specifically confirmed in writing by T&S before they become applicable to any particular order or contract. In accordance with the T&S policy of continuous improvement specifications may change without notice.
The publication of information in this data sheet does not imply freedom from patent or other protective rights of T&S or others. Further details are available from any T&S sales representative.