Electrical Pad Layout of 200G QSFP56 SR4 100m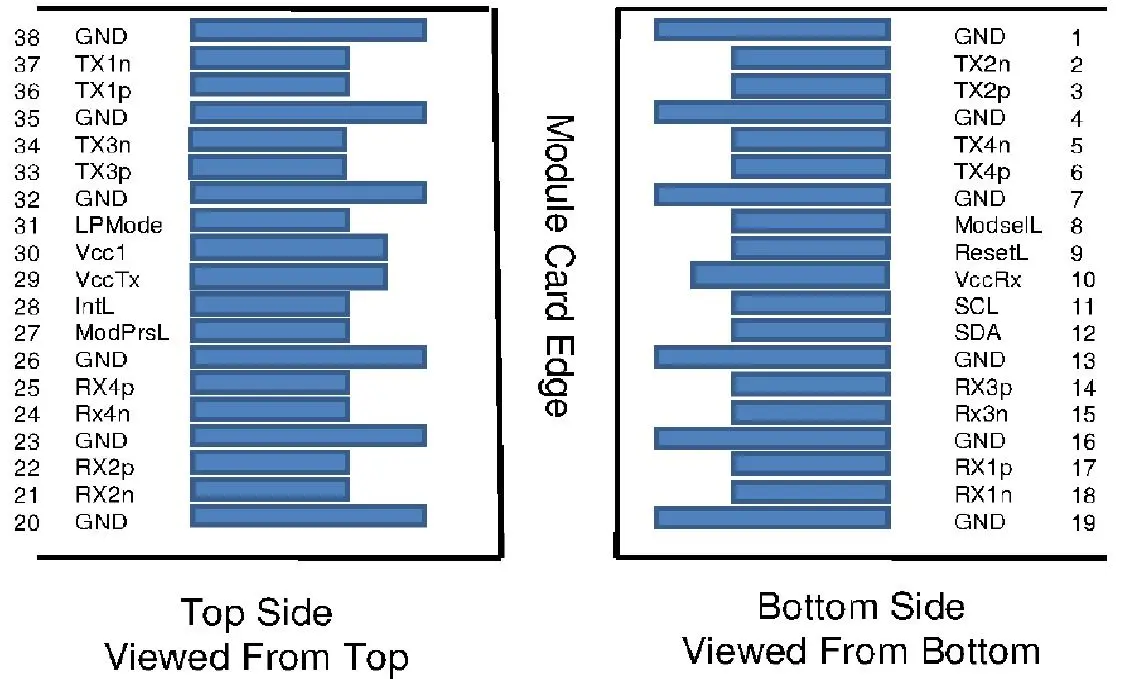 Pin definition of 200G QSFP56 SR4 100m
| | | |
| --- | --- | --- |
| Pin | Symbol | Name/Description |
| 1 | GND | Ground |
| 2 | Tx2n | Transmitter Inverted Data Input |
| 3 | Tx2p | Transmitter Non-Inverted Data Input |
| 4 | GND | Ground |
| 5 | Tx4n | Transmitter Inverted Data Input |
| 6 | Tx4p | Transmitter Non-Inverted Data Input |
| 7 | GND | Ground |
| 8 | ModSelL | Module Select |
| 9 | ResetL | Module Reset |
| 10 | VCC Rx | +3.3 V Power supply receiver |
| 11 | SCL | 2-wire serial interface clock |
| 12 | SDA | 2-wire serial interface data |
| 13 | GND | Ground |
| 14 | Rx3p | Receiver Non-Inverted Data Output |
| 15 | Rx3n | Receiver Inverted Data Output |
| 16 | GND | Ground |
| 17 | Rx1p | Receiver Non-Inverted Data Output |
| 18 | Rx1n | Receiver Inverted Data Output |
| 19 | GND | Ground |
| 20 | GND | Ground |
| 21 | Rx2n | Receiver Inverted Data Output |
| 22 | Rx2p | Receiver Non-Inverted Data Output |
| 23 | GND | Ground |
| 24 | Rx4n | Receiver Inverted Data Output |
| 25 | Rx4p | Receiver Non-Inverted Data Output |
| 26 | GND | Ground |
| 27 | ModPrsL | Module Present |
| 28 | IntL | Interrupt |
| 29 | VCC Tx | +3.3 V Power supply transmitter |
| 30 | VCC 1 | +3.3 V Power Supply |
| 31 | LPMode | Low Power Mode |
| 32 | GND | Ground |
| 33 | Tx3p | Transmitter Non-Inverted Data Input |
| 34 | Tx3n | Transmitter Inverted Data Input |
| 35 | GND | Ground |
| 36 | Tx1p | Transmitter Non-Inverted Data Input |
| 37 | Tx1n | Transmitter Inverted Data Input |
| 38 | GND | Ground |
Ordering information of 200G QSFP56 SR4 100m
| | |
| --- | --- |
| Part Number | Product Description |
| TSQS-852HG01-MC | QSFP56 200G SR4 100m@OM4 0°C ~ +70°C |
References of 200G QSFP56 SR4 100m
1. SFF-8665: "QSFP+ 28Gb/s 4X Pluggable Transceiver Solution (QSFP28)", Rev 1.9, June 29, 2015 and associated SFF documents referenced therein:
i. SFF-8661
ii. SFF-8679
iii. SFF-8662
iv. SFF-8663
v. SFF-8672
vi. SFF-8472
2. Directive 2011/65/EU of the European Parliament and of the Council, "on the restriction of the use of certain hazardous substances in electrical and electronic equipment," July 1, 2011.
3. Common Management Interface Specification (CMIS) Rev 4.0.
4. IEEE P802.3-2018, 200GAUI-4 Interface.
5. IEEE P802.3cd
Important Notice of 200G QSFP56 SR4 100m
Performance figures, data and any illustrative material provided in this data sheet are typical and must be
specifically confirmed in writing by T&S before they become applicable to any particular order or contract. In accordance with the T&S policy of continuous improvement specifications may change without notice.
The publication of information in this data sheet does not imply freedom from patent or other protective rights of T&S or others. Further details are available from any T&S sales representative.