QSFP+ Pin definition
| | | |
| --- | --- | --- |
| Pin | Symbol | Name/Description |
| 1 | GND | Ground |
| 2 | Tx2n | Transmitter Inverted Data Input |
| 3 | Tx2p | Transmitter Non-Inverted Data Input |
| 4 | GND | Ground |
| 5 | Tx4n | Transmitter Inverted Data Input |
| 6 | Tx4p | Transmitter Non-Inverted Data Input |
| 7 | GND | Ground |
| 8 | ModSelL | Module Select |
| 9 | ResetL | Module Reset |
| 10 | Vcc Rx | +3.3 V Power supply receiver |
| 11 | SCL | 2-wire serial interface clock |
| 12 | SDA | 2-wire serial interface data |
| 13 | GND | Ground |
| 14 | Rx3p | Receiver Non-Inverted Data Output |
| 15 | Rx3n | Receiver Inverted Data Output |
| 16 | GND | Ground |
| 17 | Rx1p | Receiver Non-Inverted Data Output |
| 18 | Rx1n | Receiver Inverted Data Output |
| 19 | GND | Ground |
| 20 | GND | Ground |
| 21 | Rx2n | Receiver Inverted Data Output |
| 22 | Rx2p | Receiver Non-Inverted Data Output |
| 23 | GND | Ground |
| 24 | Rx4n | Receiver Inverted Data Output |
| 25 | Rx4p | Receiver Non-Inverted Data Output |
| 26 | GND | Ground |
| 27 | ModPrsL | Module Present |
| 28 | IntL | Interrupt |
| 29 | Vcc Tx | +3.3 V Power supply transmitter |
| 30 | Vcc1 | +3.3 V Power Supply |
| 31 | LPMode | Low Power Mode |
| 32 | GND | Ground |
| 33 | Tx3p | Transmitter Non-Inverted Data Input |
| 34 | Tx3n | Transmitter Inverted Data Input |
| 35 | GND | Ground |
| 36 | Tx1p | Transmitter Non-Inverted Data Input |
| 37 | Tx1n | Transmitter Inverted Data Input |
| 38 | GND | Ground |
Pin Descriptions of 40G QSFP+ TO 4SFP+ Direct Attach Cable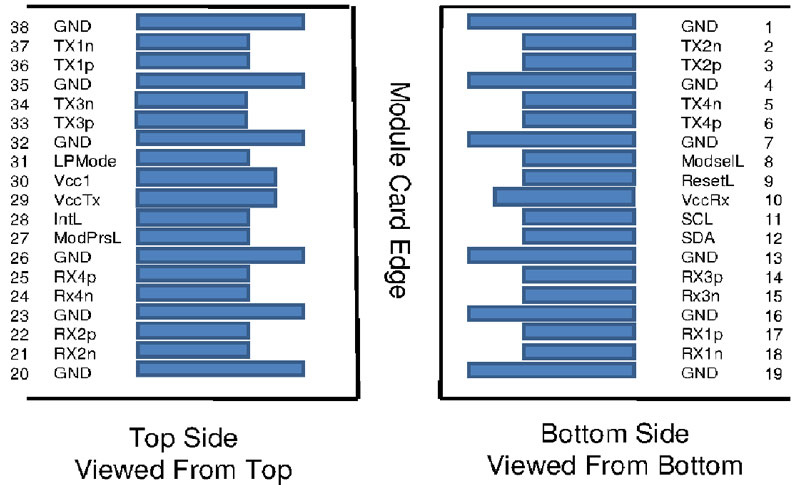 SFP+ Pin definition
| | | |
| --- | --- | --- |
| Pin | Symbol | Name/Description |
| 1 | VEET [1] | Transmitter Ground |
| 2 | Tx_FAULT [2] | Not used |
| 3 | Tx_DIS [3] | Not used |
| 4 | SDA [2] | 2-wire Serial Interface Data Line |
| 5 | SCL [2] | 2-wire Serial Interface Clock Line |
| 6 | MOD_ABS [4] | Module Absent. Grounded within the module |
| 7 | RS0 [5] | Not used |
| 8 | RX_LOS [2] | Loss of Signal indication. Logic 0 indicates normal operation |
| 9 | RS1 [5] | Not used |
| 10 | VEER [1] | Receiver Ground |
| 11 | VEER [1] | Receiver Ground |
| 12 | RD- | Receiver Inverted DATA out. AC Coupled |
| 13 | RD+ | Receiver DATA out. AC Coupled |
| 14 | VEER [1] | Receiver Ground |
| 15 | VCCR | Receiver Power Supply |
| 16 | VCCT | Transmitter Power Supply |
| 17 | VEET [1] | Transmitter Ground |
| 18 | TD+ | Transmitter DATA in. AC Coupled |
| 19 | TD- | Transmitter Inverted DATA in. AC Coupled |
| 20 | VEET [1] | Transmitter Ground |
Notes:
1. Module circuit ground is isolated from module chassis ground within the module.
2. should be pulled up with 4.7k – 10k ohms on host board to a voltage between 3.15Vand 3.6V.
3. Tx_Disable is an input contact with a 4.7 kΩ to 10 kΩ pullup to VccT inside the module.
4. Mod_ABS is connected to VeeT or VeeR in the SFP+ module. The host may pull this contact up to Vcc_Host with a resistor in the range 4.7 kΩ to10 kΩ.Mod_ABS is asserted "High" when the SFP+ module is physically absent from a host slot.
5. RS0 and RS1 are module inputs and are pulled low to VeeT with > 30 kΩ resistors in the module.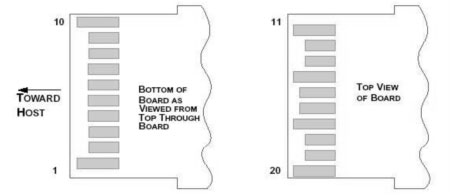 Mechanical Dimensions of 40G QSFP+ TO 4SFP+ Direct Attach Cable
The connector is compatible with the SFF-8436 to SFF-8432 specification.

| | |
| --- | --- |
| Length (m) | Cable AWG |
| 1 | 30 |
| 3 | 30 |
| 5 | 26 |
| 7 | 26 |