Electrical Pad Layout of 25G SFP28 CWDM 12dB 10km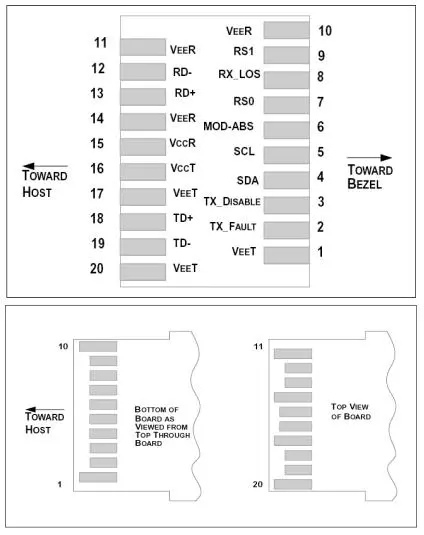 Pin definition of 25G SFP28 CWDM 12dB 10km
| | | |
| --- | --- | --- |
| Pin | Symbol | Name/Description |
| 1 | VEET [1] | Transmitter Ground |
| 2 | Tx_FAULT [2] | Transmitter Fault |
| 3 | Tx_DIS [3] | Transmitter Disable. Laser output disabled on high or open |
| 4 | SDA [2] | 2-wire Serial Interface Data Line |
| 5 | SCL [2] | 2-wire Serial Interface Clock Line |
| 6 | MOD_ABS [4] | Module Absent. Grounded within the module |
| 7 | RS0 [5] | Rate Select 0 |
| 8 | RX_LOS [2] | Loss of Signal indication. Logic 0 indicates normal operation |
| 9 | RS1 [5] | Rate Select 1 |
| 10 | VEER [1] | Receiver Ground |
| 11 | VEER [1] | Receiver Ground |
| 12 | RD- | Receiver Inverted DATA out. AC Coupled |
| 13 | RD+ | Receiver DATA out. AC Coupled |
| 14 | VEER [1] | Receiver Ground |
| 15 | VCCR | Receiver Power Supply |
| 16 | VCCT | Transmitter Power Supply |
| 17 | VEET [1] | Transmitter Ground |
| 18 | TD+ | Transmitter DATA in. AC Coupled |
| 19 | TD- | Transmitter Inverted DATA in. AC Coupled |
| 20 | VEET [1] | Transmitter Ground |
Notes:
[1] Module circuit ground is isolated from module chassis ground within the module.
[2] Should be pulled up with 4.7k – 10k ohms on host board to a voltage between 3.15Vand 3.6V.
[3] Tx_Disable is an input contact with a 4.7 kΩ to 10 kΩ pullup to VCCT inside the module.
[4] Mod_ABS is connected to VeeT or VeeR in the SFP+ module. The host may pull this contact up to VCC_Host with a resistor in the range 4.7 kΩ to10 kΩ.Mod_ABS is asserted "High" when the SFP+ module is physically absent from a host slot.
[5] RS0 and RS1 are module inputs and are pulled low to VeeT with > 30 kΩ resistors in the module.
Ordering information of 25G SFP28 CWDM 12dB 10km
| | |
| --- | --- |
| Part Number | Product Description |
| TSSPC-XX25G-L1C | 25Gbps SFP28 CWDM 15dB 0°C ~ +70°C |
| TSSPC-XX25G-L1E | 25Gbps SFP28 CWDM 15dB -20°C ~ +85°C |
CWDM Wavelength of 25G SFP28 CWDM 12dB 10km
Band

XX

Wavelength(λ:nm)

Min.

Typ.

Max.

O-band Original

27

1264.5

1271

1277.5

29

1284.5

1291

1297.5

31

1304.5

1311

1317.5

33

1324.5

1331

1337.5

35[1]

1344.5

1351

1357.5

E-band Extended

37[1]

1364.5

1371

1377.5
Notes:
[1] Only Standard temp. is available.
References of 25G SFP28 CWDM 12dB 10km
1. SFP28 MSA
2. Directive 2011/65/EU of the European Parliament and of the Council, "on the restriction of the use of certain hazardous substances in electrical and electronic equipment," July 1, 2011.
Important Notice of 25G SFP28 CWDM 12dB 10km
Performance figures, data and any illustrative material provided in this data sheet are typical and must be
specifically confirmed in writing by T&S before they become applicable to any particular order or contract. In accordance with the T&S policy of continuous improvement specifications may change without notice.
The publication of information in this data sheet does not imply freedom from patent or other protective rights of T&S or others. Further details are available from any T&S sales representative.